On Thursday I had a lovely visit to the Trevor Sorbie Salon in Brighton (situated near Donatellos/Pizza Express and The Lanes Health and Beauty) and I was treated to a fabulous cut and colour by Kate and Louella and all of the wonderful Trevor Sorbie team.
The awful state of my hair before
I'd seen a few of the other Brighton blogger girlies getting some fabulous new hair do's and after I had booked mine I just couldn't wait for the day! I managed to book myself an appointment with the lovely Kate the day before my last first year uni exam, which was a lovely little de-calming session and after my great consultation with Kate I felt at ease. I also felt I could chat away to Kate easily and felt comfortable enough to ask her lots of questions. Normally I'm too terrified of hairdressers to say a word!
Consultation with Kate

My hair prior to the haircut, was a mess. I'd home dyed it 'cherry red' middle February and it left bands and strips of red, and my natural colour. Whilst this colour was marketed as a semi-permanent, it obviously was not, as 4 months later it was still rather red and showed no signs of shifting. Not the most attractive of looks!
Cleansing the red out (as much as we could)
Applying the lighter highlights
Enjoying the foils.
In goes the dye!
I really wanted to get my hair as close back to my natural colour as possible, and possibly lighter too for summer! Because of the coppery red tones, we first had to cleanse the original colour out, and then Kate applied some blondey highlights, we then dyed it the colour we decided on. It was a bit of an experimenting process as my red hair was a lot more stubborn than we had originally anticipated so we had to work with my hair as we went on through the process. In the end I got the exact result I was after and I love it 🙂 After the colouring was done, the lovely Louella gave me a nice trim and took off what was needed!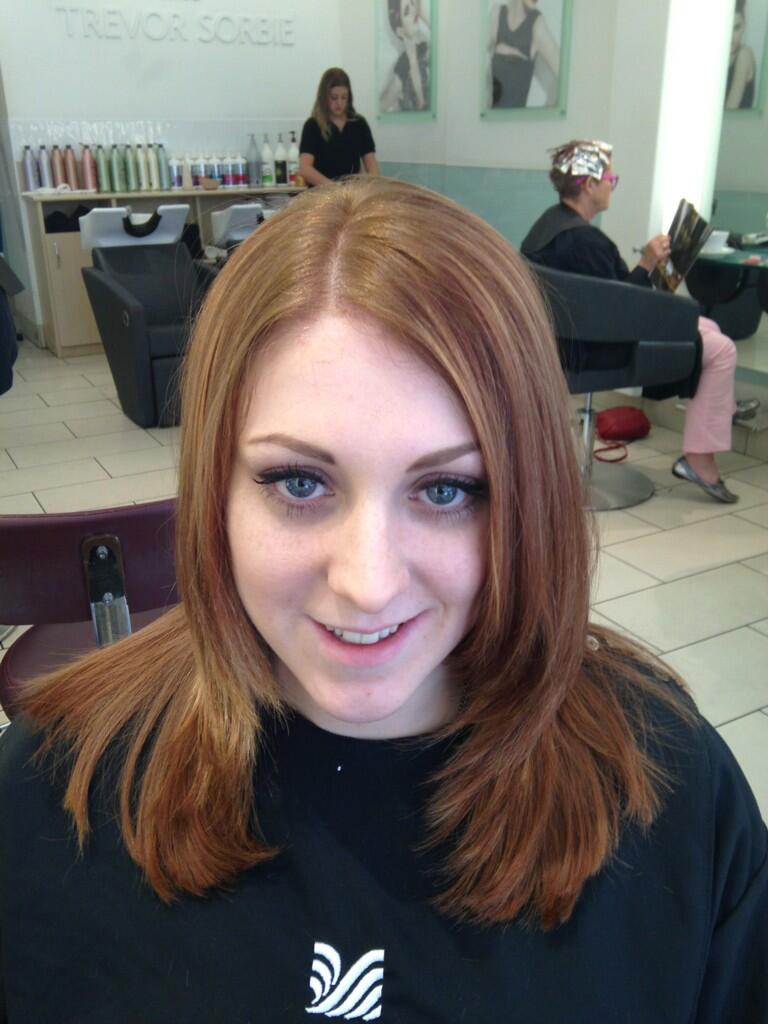 After
I absolutely love my new colour, thanks so much Trevor Sorbie!! I was very well looked after during my visit, and was constantly offered, refreshments and magazines etc. I was also given a Salon X-clusive Nourishing Shampoo for dry/damaged hair and a Salon X-clusive Caring Conditioner to keep my new locks in tip top condition!
I really enjoyed my cut and colour at Trevor Sorbie, so if you're in Brighton and looking for a gorgeous cut or colour, make sure to pop in! Make sure to check out their Twitter and Kate's too.

Have any of you been to Trevor Sorbie or had your hair done lately?
Sophie x